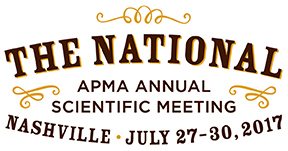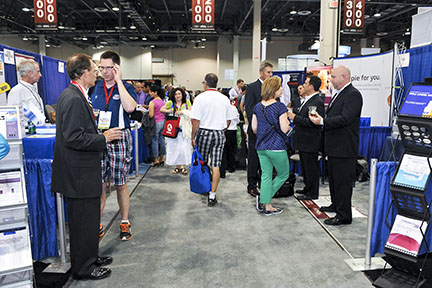 Join APMA in Nashville, TN, for the 2017 Annual Scientific Meeting. The meeting takes place July 27–30 at the exquisite Gaylord Opryland & Convention Center.
The National is podiatry's premier foot and ankle conference, where you'll engage with podiatric physicians, assistants, and other health-care professionals from across the country and around the world. Exhibiting is an ideal promotional-vehicle for your brand and products. You'll interact face-to-face with an audience that has unparalleled authority and reach among patients.
Get complete details by downloading the meeting prospectus. The prospectus contains the booth application and floor plan, as well as sponsorship information.
Booth Prices
Booths are sold as 10 x 10 units and range in price from $2,450 to $3,400. Island units are also available; see prospectus.
The booth fee does not include booth supplies.
All booth prices increase by 10 percent after Friday, January 6, 2017.
Exhibitor Benefits
As an exhibitor, you'll enjoy these benefits and more (see prospectus for complete list of benefits):
Complimentary set of meeting pre-registrant data
Complimentary badges for booth personnel
Recognition on APMA website, with link to company website
Recognition in daily meeting newspaper
Recognition in mobile meeting app, with link to company website
Frequently Asked Questions
Already registered to exhibit at The National? Find information about the exhibit hall schedule, badges, booth supplies, and more in the Frequently Asked Questions section.
Marketing Opportunities
Draw attendees to your booth! Optimize your exposure before, during (and after) the meeting.
Advertise in print and electronic media.
Design and send an e-blast to meeting attendees. Contact the exhibit hall manager for details.
Use your set of complimentary meeting registrant data to send a post card to attendees.
Hold a raffle at your booth. APMA will promote your raffle on your behalf.
Become a meeting sponsor.
Make exhibiting at The National a part of your sales and marketing strategy. Join APMA in 2017 in Nashville!
Are Other Exposure Opportunities Available?
APMA's membership consists of the majority of podiatrists in the US (over 80 percent). APMA provides you with numerous opportunities that will surely complement your marketing activity and provide increased exposure to your current and potential customers. Read more about corporate opportunities.
Your competitors are already enjoying the benefits of sponsorship and exhibitions, and APMA welcomes you to do the same.
Questions? Contact the exhibit hall manager via e-mail or at 301-581-9200.